EVERYTHING THAT YOU NEED TO KNOW ABOUT ORTHOJOY SLIPPERS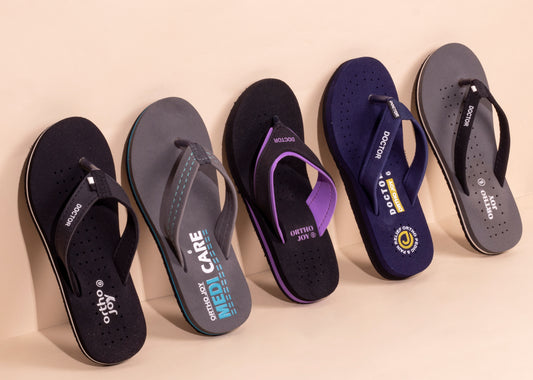 EVERYTHING THAT YOU NEED TO KNOW ABOUT ORTHOJOY SLIPPERS
OrthoJoy slippers are a perfect choice for everyday and comfortable wear.

The slippers are designed with super soft cusions and fashionable designs for a comfortable feet fit. OrthoJoy slippers help people with flat foot, arthritis, long working hours and standing jobs, diabetes, regular body fatigue, Knee pain, Joint pain, Heel pain, Ankle pain, Foot pain, Hip and Waist pain, Back pain, Sprains, Strains, Calves and Muscle pain.

OrthoJoy slippers helps to reduce the pressure on the painful muscles. It is light weight, reduces pressure, makes one feel comfortable while walking.

OrthoJoy slippers can be cleaned using mild soap or detergent and a soft cloth or sponge to wipe them clean.

Try to dry them thoroughly before using them again.

OrthoJoy slippers are available in a variety of sizes, colours and designs for customer choices and preferences.
OrthoJoyslippers have the following features:
Anti-skid
Pain relief
Relieves heel & ankle pain
Light weight
Skin friendly
To buy OrthoJoy slippers visit https://orthojoy.in/